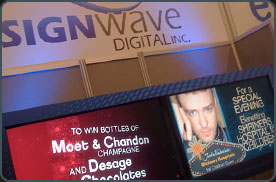 About Signwave digital
Signwave Digital, Inc. is a full-service electronic content development and management company, experienced in the production and operations of electronic messaging systems, including LED signs, plasma kiosks, digital menu boards and projection systems. Signwave Digital's services extend from concept development to production and on through to delivery and execution of final content on the electronic medium. Our goal at Signwave Digital is to cut through the various hurdles and coordination efforts and give customers a single point of contact to produce and manage their electronic production needs. In addition, our centralized project database helps make project entry, tracking and management a streamlined process, furthering the concept of a one-stop shop.


Formed in 2007, Signwave Digital, Inc. recognized a need in the digital signage market for high quality and creative content production for unique LED screens. In addition, there was a definite need for a creative group who could not only produce the desired content but could also manage it's conversion, transmission and trafficking for a wide variety of electronic displays. With extensive experience in technical show environments and creative production and visualization for unique media environments including the Fremont Street Experience, the Planet Hollywood Hotel & Casino, the Venetian & Palazzo Convention Center Directory and Miracle Mile Shops, Signwave Digital, Inc. offers clients a total production and management solution rather than a simple piece of the puzzle.

Signwave Digital, Inc. provides content production and digital signage management services to a wide assortment of clients across the Las Vegas Valley. As Digital Signage continues to expand into all areas of the marketplace, we continue to expand and change right along with it.